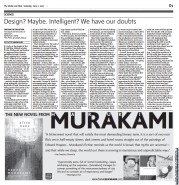 Design? Maybe. Intelligent? We have our doubts
Reviewed by Michael Ruse
The Globe and Mail Weekend, (Canada), page D5
02 Jun 2007
In 1961, at the height of the Cold War, biblical scholar John Whitcomb and hydraulic engineer Henry Morris published a book, Genesis Flood, arguing for a "young Earth" history of the origins of the world. According to the best of modern science, they claimed, everything happened exactly as described in the early chapters of Genesis – six literal days of creation, humans last, worldwide deluge.
read The Globe & Mail article…
British evolutionist Richard Dawkins reviews Behe's book for the Sunday, July 1, New York Times Book Review section: Inferior Design. The review also appeared in the International Herald Tribune Culture section. Dawkins said: