10 Aug 2012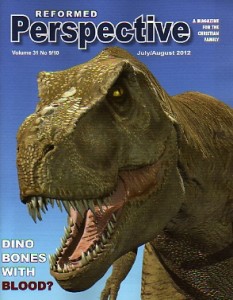 Reformed Perspective, Vol. 31, No. 9/10, July/August 2012, monthly, $55 (USA) year. 36 pages.
Editor: Jon Dykstra.
Reformed Perspective, 503A Forest Circle, Lunden, WA 98264. Website.
Although the editorial address is in the United States, Reformed Perspective is a Canadian publication with a solid emphasis on a young earth perspective! This issue features several items of interest to creationists:
A short news items by Bryan Grim, ARP Synod passes overture on the historical Adam, on the adoption by the Associate Reformed Presbyterian Church of an overture affirming the account of Creation in Genesis 1 & 2 as historical.
John Dykstra reviews the video, Dragons or Dinosaurs? : Creation or Evolution, giving it a thumbs up. (Although he cautions that one of the special feature programs promotes Premillenialism.)
And finally, Margaret Helder provides an excellent summary of the evidence for unfossilized dinosaur bones and blood cells (Mary Schweitzer's work) in dinosaur bones: Dino bones with blood?!?. Dr. Helder is a speaker with Creation Science Association of Alberta)