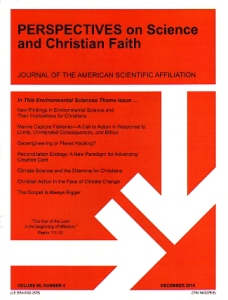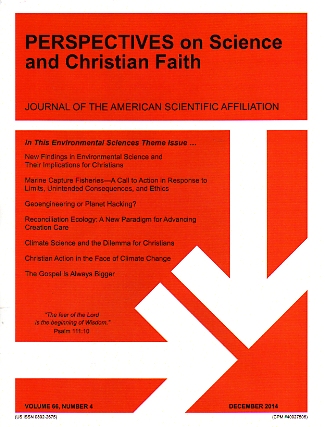 Perspectives on Science and Christian Faith, Vol. 66, No. 4, December 2014, quarterly, free after 2 issue embargo, available by subscription $50 year or membership $85, 68 pages. ISSN: 0892-2675.
Editor: James C. Peterson
American Scientific Affiliation, P.O. Box 668, Ipswich, MA 01938.
Table of Contents
Editorial : Perfection Is Elusive / James C. Peterson. p. 193.
New Findings in Environmental Science and Their Implications for Christians / Dorothy Boorse. p. 194.
Marine Capture Fisheries—A Call to Action in Response to Limits, Unintended Consequences, and Ethics / Robert D. Sluka and Paul Simonin. p. 203.
Geoengineering or Planet Hacking? / M. A. Srokosz. p. 213.
Reconciliation Ecology: A New Paradigm for Advancing Creation Care / David Warners, Michael Ryskamp, and Randall Van Dragt. p. 221.
Climate Science and the Dilemma for Christians / Donald C. Morton. p. 236.
Christian Action in the Face of Climate Change / Thomas P. Ackerman. p. 242.
Communication : The Gospel Is Always Bigger / John P. Bowen. p. 248.
Book Reviews. p. 251.
Letter to the Editor : Concordism vs. Context / Paul H. Seely. p. 263.